Going abroad to avoid the cold weather?
28th January 2014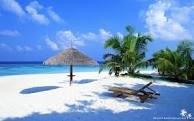 Are you going away to escape the UK winter weather?
Many people choose to go on holiday to warmer places during the winter months to avoid the cold UK weather. Be it just for 2 weeks or an extended holiday, before you go it's really important to address your home security. That way you can enjoy your holiday and not worry about your home being vacant.
Winter is a great time for burglars to target your home, with the darker nights it's easier for them to identify if your home is occupied or vacant. Over the last few months we have heard of a large spike in burglaries locally so be sure to implement the following security measures to ensure your home is not targeted, that way you can enjoy the pool or the slopes!
Keep the appearance that your home is occupied.
Tell-tale signs of an unoccupied home are:
Post or newspapers piling up behind the door or

sticking out of the letterbox.

Curtains being left open at night or closed

during

the day.

No lights being on during the evening

while

its dark.

No vehicles being on

the drive.

An absence of activity at

the premises.
Before you go away ensure you attend to these things. Ask a neighbour to remove your post from behind the door, get them to open the curtains for you in the morning and close them at night and ask them to turn a light on in the evening. If your vehicle is going to be parked away from your home ask a neighbour to park their vehicle on your drive. Following these tips will make it look as though your home is occupied.
Deterring a potential burglar
Invest in motion sensor lighting at the front and rear of your property. A triggered light will illuminate anyone that enters

your drive / garden and many times this is enough to

scare them away if they do not have a

legitimate reason to be there.

Before you leave walk around your property to ensure that all doors, windows and points of access are secured and locked. A proportion of burglaries occur without any forced entry.

Install an alarm and ensure you use it. The best kind of alarms are the monitored ones. In the event of an activation the alarm will communicate with a key holder, after all you don't want to annoy your neighbours with your alarm going off and not having anyone to respond to it.
PHX Security have over 20 years of experience in providing Key Holding and Alarm Response Services to our clients. This service is provided for as little as £1 a day and gives you peace of mind that your home is being looked after while you are away from it. If you want any further information or advice please don't hesitate to contact our office on 01386 841982.
Evesham Crime & Prevention
8th April 2022
As of February 2021, Evesham was noted as the second most dangerous medium-sized town in Worcestershire, and it the 21st most dangerous overall out of Worcestershire's 195 towns, villages and cities. How to keep your home free from Crime? Install monitored CCTV Install a burglar alarm ...
Read on
HAPPY NEW YEAR!
7th January 2022
Everyone at PHX Security hope you all had a wonderful Christmas and a very Happy New Year! Team PHX are fully open and serving the community for all Security needs whether it is your business or your home. Here is to 2022 and let's make it a good one!
Theft at Allotments
5th November 2021
We have been sent over a report from West Mercia Police regarding thefts at Allotments. There has been a recent increase in the number of thefts in comparison with previous years, in particular numerous sheds have been attacked at the same site. The offenders are targeting sheds which are both s ...
Read on
Burglary Prevention Advice
4th November 2021
Advice we have been provided from Gloucestershire Constabulary: Burglars look for opportunities; They want to find empty-looking homes, where they can't be seen by neighbours and where they can get in and out quickly. Take away their opportunities by installing the 'WIDE' combination of security de ...
Read on
Crime Prevention During the darker months
19th October 2021
We have been sent through some advice from Gloucestershire Constabulary and would like to share it with you: "We would like to remind residents that with the days getting shorter and evenings drawing in, you could become 49 times more protected again Burglary by thinking 'WIDE'. Windows and ...
Read on
Threat Level
7th September 2021
UK Terrorism Threat Level The current UK threat level for international terrorism is currently (07/09/2021) assessed as - SUBSTANTIAL. This means that an attack is unlikely. The telephone number for the anti-terrorist hotline is 0800 789 321. If you see or hear anything the could be t ...
Read on
Recruiting Now
31st August 2021
Now the world is opening up events and weddings are underway We are now recruiting for Part Time and Adhoc staff if you a looking for any additional work please contact the office on 01386 841982
Happy New Year!
1st January 2021
It's a new year and we are ready and raring to go! We are open and serving the community and are here for your security needs, whether you are a business or just wanting extra security for your home and peace of mind! Let's hope this year is better than last and most importantly safe!
How to keep burglars out of your business
24th February 2020
When you have invested lots of time and money into your business you do not want a burglary to occur. Below are some tips to protect your business: Identify areas that may be vulnerable to forced entry and make them more secure. Make sure that any service doors are locked and secur ...
Read on
UK Terrorism Threat Level
4th November 2019
The current UK threat level for international terrorism has been reduced (4/11/19) to SUBSTANTIAL. This means that an attack is likely. The telephone number for the anti-terrorist hotline is 0800 789 321. If you see or hear anything the could be terrorist related call it in.
Corporate and Social Responsibility Policy
29th October 2019
Corporate and Social Responsibility Policy We recognise that we must incorporate our business values and operations to meet the expectations of our stakeholders. They include customers, employees, regulators, suppliers, the community and the environment. We recognise that our s ...
Read on
Mission Statement
18th September 2019
PHX Security Ltd aim to provide all of our clients with the option to receive all support services they require from one innovative and effective supplier. We are prepared to always go that extra mile and our true belief is that our client's feelings and general security are paramount and w ...
Read on
UK Terrorism Threat Level
7th March 2019
UK Terrorism Threat Level The current UK threat level for international terrorism is currently (3/7/19) assessed as - SEVERE. This means that an attack is highly likely. The telephone number for the anti-terrorist hotline is 0800 789 321. If you see or hear anything the could be terr ...
Read on
Protect your home and property this Christmas
19th December 2018
With the Christmas and New Year upon us, you are probably in the process of buying presents and stocking up on supplies for the festive season. However, at this time of year rich pickings can be found by criminals. We want you to be able to relax and enjoy the festive season, so here are some u ...
Read on
Seasonal Increase in Residential Burglaries
22nd November 2018
There is always an increase in residential burglaries at this time of year due to the clocks changing when afternoons become darker and in the build up to Christmas. Our advice is: Make sure all windows and doors are locked even when you are in the house. Do not leave keys on t ...
Read on
Security tips for rural properties
6th July 2018
Farms and rural properties are often in isolated locations and can be vulnerable to crime if not properly secured and protected. A secure premier around your property and its outbuildings can help deter would be thieves and burglars from targeting livestock, vehicles and buildings within your bound ...
Read on
UK Terrorism Threat Level
7th June 2018
The current threat level for international terrorism in the UK is SEVERE. The threat level for the UK from international terrorism is set by the Joint Terrorism Analysis Centre (JTAC). SEVERE means an attack is highly likely. If you see or hear anything that could be terrorist related trust ...
Read on
Winter is coming
26th October 2017
The clocks go back one hour at 2am on Sunday 29th October 2017, this brings with it extended hours of darkness which means your home is left in the dark for longer. This gives burglars longer to strike as it is easier to identify if nobody is home. Here are a few tips: Make sure all w ...
Read on
Stay safe during a terrorist attack: Run, hide, tell
24th May 2017
In response to the recent events in Manchester, we want to reinforce and emphasise the importance of vigilance and of reporting any concerns to the anti-terrorist hotline. The current UK threat level for international terrorism is: CRITICAL. This means that a terrorist attack is expected imminentl ...
Read on
Who responds to your alarm or CCTV?
9th March 2017
A burglar who raided a Cotswold Farmhouse and stole more than £10,000 worth of jewellery has appeared in Court and received a suspended prison sentence despite the devastating impact the offence has had on the owners. The perpetrator was caught because his face was clearly visible on the ...
Read on
Home Security myths courtesy of Compare The Market
31st October 2016
Compare the Market have surveyed more than 1000 people to understand and then debunk some assumptions around home security. Interestingly, they've discovered that it's the younger generation who are more likely to be victims of burglary and these people are the least likely to have contents insura ...
Read on
Protect yourself online
6th June 2016
With an increase in the use of social media (Facebook, Twitter, Instagram) to stay in contact with people we know there has also been an increase in the use of social media by the criminal fraternity to find their next victim. Many people post on social media when they are going on holiday, ou ...
Read on
Burglary Prevention List
4th February 2016
West Mercia Police have compiled the following burglary prevention list: Set a timer switch to control your lights to come on and off at various times when no-one is at home, as an unlit house can attract unwanted attention. Remember to lock your doors, patio and downstairs windows even ...
Read on
Security advice regarding outbuildings
2nd December 2015
West Mercia Police have produced the following useful advice in relation to the security of outbuildings following an increase in the number of shed break-in's recently. Garages and sheds are vulnerable to burglary, as they are generally quite flimsy structures, but they should not be forgotte ...
Read on
Your home through the eyes of a criminal
19th October 2015
Recent research has concluded that it only takes five minutes for three burglars to enter your home and make away with your most expensive items. Laptops and computer equipment are the biggest growers in terms of popularity amongst burglars. In 2004-2005 just 16% of burglaries involved laptops bei ...
Read on
Holiday home security checklist
16th June 2015
The temperature is hotting up and its not long until the schools finish for the summer. The next few months are some of the busiest months for people going away on holiday. PHX Security Ltd have compiled a holiday home security checklist to assist you with ensuring your home is safe and secure whi ...
Read on
Where do you keep your valuables?
25th March 2015
The most popular hiding place amongst the Brits is their sock draw! Confused.com conducted a survey and of those questioned 13 people said that their sock draw was their safe place of choice. This was followed by the top of the wardrobe, under the bed and under their sink. 51% of those questioned ...
Read on
Identifying vulnerable households in the community - Gloucestershire Fire and Rescue Service
8th January 2015
We have just received the following information from John Beard - Gloucestershire Fire and Rescue Service. John says that over the last two years they have seen a significant number of fire related incidents in households where hoarding or poor housekeeping has been a contributory factor. Sad ...
Read on
Have you thought about your security this Christmas?
17th December 2014
At this time of year most of us have completed our Christmas shopping and this results in our homes becoming a perfect target for burglars who want to help themselves to these sometimes expensive gifts. The Christmas party season is well underway meaning that homes are empty during the evening and ...
Read on
Crime in the North Cotswolds
13th October 2014
Here is a small selection of reported crimes in the North Cotswold Area, these were circulated to us by Gloucestershire Constabulary. Incident 112 2/9/14 Fortey Road, Northleach. Between 0900hrs and 2200hrs on 1st September damage was caused to the lock of a house after glue was poured in the ...
Read on
Crime Statistics
13th August 2014
DCC Rod Hansen from Gloucestershire Constabulary reports that in Gloucestershire there has been a 0.4% reduction in reported crime, great you may think however when the figures are examined more closely it becomes apparent that there has been a rise in Burglary and Theft. Figures in DCC Rod Ha ...
Read on
Whose at the door?
28th April 2014
If someone knocked on your door would you instinctively just open the door? Some people blindly open the door to see who it is or what they want, this is not a good idea, obviously if you know the person then that's different. Once the door is opened even slightly it makes it easy for the pe ...
Read on
Christmas Home and Business Security Tips
12th December 2013
December is the time of year where we all go shopping for gifts for our loved ones. This means that in the build up to Christmas our homes become a perfect target for burglars who want to help themselves to these sometimes expensive gifts. December is also the time of year where people atten ...
Read on
Don't become the victim of Burglary
22nd November 2013
Don't become a victim of crime now the clocks have gone back and dark nights draw in. As the winter months draw in, burglars are more likely to target your home or business. Research from Halifax suggests that burglaries increase by as much as 20% during the winter months. Reports from our ...
Read on
Halloween home security and safety guide
30th October 2013
Halloween is nearly upon us when lots of children will pound the pavements in search of fun and goodies. Not only is Halloween well known for this but it is also a favourite time for vandals and pranksters and can be an ideal opportunity for burglars if you are away from home. It's easy ...
Read on
What is a key holding service
18th October 2013
So what is key holding? If you own a business or property and have an intruder alarm it's important that you can respond quickly in the event of activation. This is equally important in this day and age where noise pollution is a hot topic. Key holding services prevent delays in respondi ...
Read on
Security advice for small businesses
27th September 2013
Today more than ever there are unfortunately greater threats to people and property. Owners of all types of businesses are not immune to this threat. Some small businesses fail to address their security needs until it's too late and there has been an incident on their premises. Small busines ...
Read on
False Alarm Activations
8th August 2013
The 6 Most Common Causes of False Alarm Activations As a company that responds to clients alarm activations we encounter false alarms from time to time. We have put together a list to give our clients a better understanding of the 6 most common causes of false alarms. 1) ...
Read on
How nosey are your neighbours?
4th July 2013
If you are concerned about the safety of your home or business, you are most likely to have installed an intruder alarm in order to keep your property, loved ones and yourself safe from harm. An intruder alarm has a series of sensors to sense when someone has broken into the property which ...
Read on
Don't become the target of thieves
24th June 2013
£2,000 worth of property has been stolen during a daytime burglary in Worcester. This happened between 9.50am and 1pm on Friday 21st June 2013. Thieves broke into the house by smashing the glass in the rear patio door before making an untidy search of the rooms. ...
Read on
Welcome to the PHX Blog and new website
17th June 2013
Welcome to the new PHX website and PHX Blog. Please follow our Blog for the latest PHX Security news and information around Worcestershire, Gloucestershire, Warwickshire and Oxfordshire regarding local crime updates and advice on improving your home and business security. The website and bl ...
Read on
1st January 1900